Thursday, May 22nd, 2014
---
10:43 pm
- The consort's first birthday under the mountain.
I just wanted to draw Edda with her burn scar, but Thorin and Bilbo insisted on being with their girl. I decided the occasion is Bilbo's 52nd birthday. They've been in Erebor for almost a year. I haven't decided if it's too early for Dís to be there yet.
Friday, May 9th, 2014
---
1:01 am
- I'm feeling AMBITIOUS!
Tonight's goal:

Get Edda out of Laketown. Alive. And in a condition that doesn't leave her deathly ill. Actually, ill is ok, but how long between dragon attack and tbofa?

Ahhh...the logistics in storytelling.

current mood:
hopeful
Sunday, July 3rd, 2011
---
12:37 am
- All that no-one sees, you see what's inside of me. Every nerve that hurts, you heal.
15 days...

I just finished reading some entries from way back in 2004/05, before moving here. What a frickin' DORK!!! Geezus! My life's goal was to make friends with people on the internet. I'm so incredibly thankful for what has transpired in my life over the last almost 6 years. I have the most amazing group of friends! Just sayin'.

I stitched the ribbon onto the neck line of the dress and promptly decided it looked awful. So now's the fun task of ripping black thread out of black velvet ribbon. It's actually going much easier than I thought and I can spend tomorrow night at Peter's sewing it on by hand. It's the only way to get it right. I think it's going to be quite lovely.

Watched this today:
www.the-leaky-cauldron.org/2011/7/2/video-the-last-days-of-shooting-harry-potter-featurette
Daniel Radcliffe made me cry. Also got a lovely bit with Alan Rickman and David Thewlis on their last day on set. I imagined myself standing between them. A nice little Severus/Remus sandwich. *giggles* I get such a kick out of pictures of Alan in costume and he's smiling or laughing. Happy Snape!



I want to broach the subject of buttons. Lots and lots of black buttons. Neck to waist. Wrist to elbow.
This picture is especially nice because you get a good look at the buttons on his left arm and that wonderful cuff. The sliver of white and just visible fingers is so incredibly sexy. Also, that glimpse of white at the collar. Just a hint of what's underneath layers of black on black. Absolutely perfect. The man in black. There is a wonderful book, which I've been meaning to re-read called, Men in Black by J.R. Harvey.

It deals with the color black and men's clothing with an emphasis on the Victorian era. What I found interesting was the discussion of different types of black; professional, ecclesiastical, scholarly, and mourning. For awhile after reading the book, I would have to decided exactly what kind of a black a character was wearing. Good fun! HIGHLY RECOMMENDED!!

Back to buttons... I still feel the one scene we were (I was) robbed of due to it's not being included in the movie is the scene where Severus shows Cornelius Fudge his Dark Mark at the end of Goblet of Fire. In the book, Rowling only says that Snape raised the sleeve of his robe. On screen, though, we would've seen Severus undoing buttons, many, many buttons. The buttons that keep his secret hidden. That would've been spectacular! It certainly would've helped what is probably one of my least favorite of the movies. Maybe if David Tennant had been in it more. Or if they hadn't cut the scene where Karkaroff confronts Severus in the snow during the Yule Ball. That would've helped. Not saying it's bad, per se, it's good, just not my fave.

Snape Tape song for tonight is:



Again, purely atmospheric. There's drama and a sense of urgency ( you push me up to this State of emergency). I was never a Sugarcubes fan, and was leery of Bjork when she went solo, but Homogenic is an amazing album. This song really fit in nicely with the aural atmosphere I'm trying to create. Clean and cold.


Oh, sweet Morpheus, I am SLEEPY!!!!

sleep tight don't let the bed bugs bite!

F_S





current mood:
recumbent
Saturday, July 2nd, 2011
---
12:43 am
- Dreams and belief have gone. Time, life itself, goes on.
16 days.

Yah, I know I said 16 days last night, but I was wrong. Today's the 1st. I'm seeing it on the 17th, ERGO, 16 days.

It was sunny and warm today which is a glorious, wonderful thing. I'm unbelievably happy that summer, or something like it (these are actually considered Spring conditions in the Bay Area which is really the best of all) is here. I'm getting a bit of a kick out of seeing everyone in their warm weather clothes baring copious amounts of blindingly white skin. In some cases, it's way too much, as in the case of the woman who actually had a bit of sagging exposed butt cheek going on. And I wish that something would happen and capris would go the way of gauchos. There is NOTHING even remotely attractive about them. Nothing. No one is immune from this. Just like Jeggings, there's no body type that can pull them off. Unfortunately, I'm thinking, for most of the ladies I see wearing them, aesthetics is not even a remote consideration.


Harry Potter and the Deathly Hallows part 2 comes out 2 weeks from today. Entertainment Weekly released their special HP edition today. An ADORABLE little Daniel Radcliffe is on the cover and many pictures of a seriously hot grown-up Daniel grace the inside. Discovered he's only 5'5". I could kiss him smack on the forehead. And I would, too. There's only one picture of Alan in it and it's the same one from the Empire HP edition. My favorite quote so far is, "Only Alan Rickman could make Severus Snape sexy". And HOW!! Geezus! I remember back when the first pictures of him as Snape were appearing online 10 years ago and I was left thinking, "Alan Rickman with Trent Reznor's hair?? They made Snape hot? Uhm...O.K.!" And, as other Snape fangirlies have pointed out (and I greatly concur) he's gotten progressively hotter with every frickin' movie! I've tried to pinpoint exactly which scene is my favorite. I think my favorite single shot has to be this: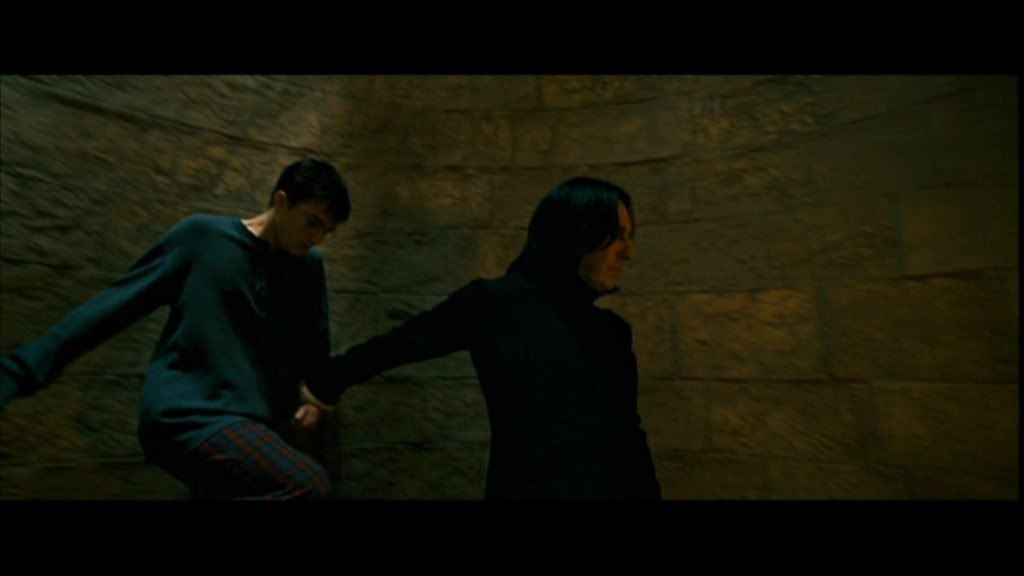 Severus dragging a confused and reluctant Harry down to the dungeon for his introduction to Occlumency in "Order of the Phoenix". That's some seriously swoony, fangirl-appeasing hotness right there! As far as a full scene goes, it's definitely "Spinner's End" from "Half Blood Prince".
I
I wish they'd done the scene a bit more like the book, what with Narcissa on her knees in front of him, begging him to help Draco, but I wouldn't trade the faint-inducing, "
Take out your wand
", for
ANYTHING
!

Needless to say, but I will (HA!), what I am most excited about in "Deathly Hallows part 2" is the "Prince's Tale". I'm hoping it's sweet and sad and everything in between and I hope having just watched him die that I can appreciate the scene fully. I think I will. If no, I'll just see it again. 16 days...

Today's "Snape Tape" song is also an alumnus of past tapes. Half Day Closing (Live) by Portishead



This one is purely for the atmosphere. Tonight is actually the first time I've ever read the lyrics. And I've always used the live version. Their live album, Roseland NYC, is amazing! And I've never been a huge fan of live recordings. I saw them live back in '94. Unfortunately, the show was slow and kinda patchy in places. I was disappointed. Despite that, I still LOVE the Portishead. And this is my favorite of their songs that's not Glory Box (I've always associated that one with InuYasha).

Despite having eaten ice cream after 10pm, I'm getting sleepy (YAY!!). I popped the hook on my red petticoat today. Working out is NOT an option!

Good nite!

F_S




current mood:
nostalgic
Friday, July 1st, 2011
---
12:21 am
- If you could save me from the ranks of the freaks who suspect they could never love anyone
16 days...

I am happy to say that progress is being made. The dress is well on its way to completion, I've attached the ribbon edging to the handkerchief, AND I got the fabric for the robe. It's a polyester with a lovely drape and a bit lighter than the dress material which is perfect for what I believe will be a sunny, WARM Sunday afternoon in July. I am using a 2" wide velvet ribbon for the neck edge of the dress which, SURPRISE!! does NOT have a draw string. Uh oh. I cut it to a size 14 to make the neck hole at least an inch smaller. I'm hoping I don't have a problem with peek-a-boo bra straps (so not o.k.!). One of these days I will learn to read a pattern completely before I start. The velvet edging pretty much means I HAVE to use velvet for at least the belt. I'm considering simple ties for the sleeves.

YAY!!

As far as things for T.A.S.K....ugh. BUT! In the most recent issue of the Gothic Lolita Bible (volume 40, if you can believe it!), I saw not one but THREE examples of what I want to do with headbands!!! I can honestly say I've never in the 11 years I've been getting the GLB seen anything of the sort. I felt like Gru in "Despicable Me", "Now THAT'S what I'm talking 'bout!" I may be late, but most certainly not last!

So, yah, 16 days and I'm still pretty frickin' excited. I have a lame tendency of losing interest in something just short of whatever event I'm waiting for. Annoying? Oh yes!! While in Uwajimaya I got hit by the "I need to finish InuYasha and get caught up on Fullmetal Alchemist and Black Butler!" bug. These will have to wait, but I think finally finishing IY is next on the agenda.

Back to work I go, tomorrow. It's amazing how much that place gets in the way. I'm very fortunate to have a job, especially one there, but...you know how it goes.

Apparently summer starts here tomorrow. The forecast shows sunny and 70's+ from here on out. WEEEEE!

NEW T.V. LOVE!!! Sherlock www.bbc.co.uk/programmes/b00t4pgh

It's a modern day version of the venerable British sleuth. Sherlock is played by Benedict Cumberbatch (who you will all get to know as the voice of Smaug in The Hobbit) and he is absolutely brilliant! Frenetic and quirky and oddly attractive. Watson is played by Martin Freeman (he's playing Bilbo and perfectly cast, I must say). I actually fell asleep during the end of the first episode and most of the second (the eps are 1.5 hours long). I'll give a more detailed opinion once I see them all the way through. Lord bless the British and their superior television! It's available for steaming on NetFlix.

Here's another song that made a "Snape Tape" some years ago. The lyric I quoted in my subject line is pretty much what won it that distinction. And this was back in the pre-Lily days, though there were more than a few fan-fiction writers who came pretty close to what Jo had planned. I've always been more of a Snape/Hermione shipper. So I have daddy issues. Big Whoop. Certainly not as bad as the feelings I used to harbour for the Chamber of Secrets era Harry/Daniel. Though, I was younger then...O.K., so I was 33 and he was, what. 13?? I know, I'm going to hell, I'm over it. Just watch the video (Tom Cruise is in it!!!)


Nitey nite!

F_S

current mood:
pleased
Friday, June 24th, 2011
---
11:17 pm
- No, it's gotten worse
I was taking a stroll down Live Journal memory lane, back to the year 2006, and apparently the weather was pretty damn nice. In April of that year I made a comment about how Portland's forecast was better than the Bay Area's and in June the temperature was up in the triple digits. Not that I want it to be over 100 degrees but over 60 would be nice. And ENOUGH with the cloud cover! I am sick of grey skies. SICK OF IT!

O.K., sorry, gotta bit of a tummy ache. Bleh!

I watched this today:


The last two seconds are a gift! I'm hoping, though, that that is all I see before actually watching the movie. I want to be surprised, but what I have seen rests any doubts I might have that this film will be anything less than what I hope it will be.

I didn't get any sewing done, but did my morning pages which didn't yield anything interesting or usable, but eh! S'okay.

Time to climb in bed and read the first essay in

The Ultimate Harry Potter and Philosophy: Hogwarts for Muggles

. It's about the soul, different philosophical explanantions for what the soul is and which, if any, of those ideas does Rowling explore in the books.

I'm liking it.

nuh nite!

F_S

p.s. Zak's new show, Paranormal Challenge, is not very entertaining. Pretty lame, actually, except when he's on the screen. I love that boy!

zzzzzzzz


current mood:
cranky
10:47 pm
- Writer's Block: Vehicles, too!
If you could turn into a automobile of any kind, what would you choose, and why?


The BATMOBILE! VaROOOM!!!
12:43 am
- All the wizards black and white are lighting candles in our hands
25 days...

...until I get to see Harry Potter and the Deathly Hallows, part deux.

This affair is unique. It's been exactly 10 years since my mom loaned me the first 4 books in a series about a boy who discovers he's really a wizard. 10 years since she pointed out a mug at a Warner Bros. store with an illustration of Harry with Professor Snape and she said, "he's a bad guy". 10 years and here we are just weeks away from the last movie. Ever. The last time I get to look forward to "ooohhh, more Snape". Except this time I know it's the end. And what an end. I've heard more than one Snape fangirl say they've been living in denial-land since reading Deathly Hallows 4 years ago. I can seriously say I have very little memory of what happens after my dear Potions Professor gives his last full measure of devotion for a dead woman. I know that's terrible, but I've never claimed to be a Harry Potter fan, after all (actually, I am, but, well, I mean, it's Severus...guh!)

So, what does a fan-girl do when she's going to watch one of her most very favorite characters ever die on the big screen? She goes in full-mourning, is what! The lovely thing is some people will get it, without explanation, and I'm already blowing them kisses. I've decided to do this, not as me, but as the original character (oc) of a Snape/OC shipper that started to grow in my head 9 years ago. Despite being lovingly fleshed out in my mind, my girl never got committed to paper. I came to the conclusion the world didn't need yet another naughty Snape fanfic and decided to focus on elves and dog demons instead. But she never went away. Of course her story changed as subsequent books came out and now I'm here deciding how she would figure in the end events. What I do know is she would be devastated, but not broken. She would mourn a man she loved but who only ever possessed her, respected her ,yes, but never allowed himself to love her. Tragic, right? (I am of the opinion that any Snape relationship, other than he and Lily, would be completely out of character as JKR wrote him. He is completely driven by his need to avenge her death, that whole obsessive/possessive thing that Rowling has mentioned in regards to his relationship with Lily. But YAY! for fan-fiction, a tweak here and there and anything is possible!)

The dress is coming together. I'm basing it on this portrait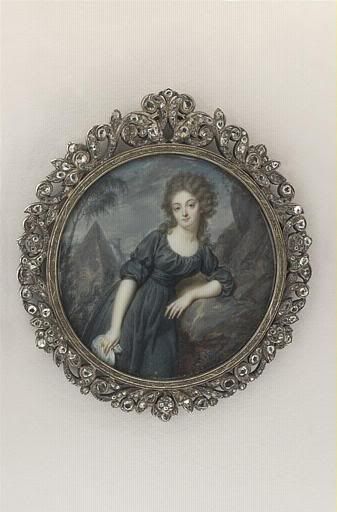 Jean-Baptiste Jacques Augustin 1792
I'm also making a robe, a memorial handkerchief, a wand, and hopefully a handbag. I'm still on the fence about what to do with my hair (headband, scarf, etc...). All this in 25 days. WEEEEEE!!! But,as I said, this is a rare and unique fan-girl moment and I'm determined to make every moment of it count.

I've also created a playlist on my iPod, many of the songs having been on previous "Snape Tape"s over the years. The most prominent of them all (I think it's made it onto every one, and there were three or four of them) I've quoted in the subject line. This is "Sister Janet" by Tori Amos


I will be sharing as things come together. Right now I have nothing but very large pieces of material.

Is time for bed. Hopefully no more very large spiders will pounce on my bed. So not cool!

And yes, I'm very excited about Pottermore!


current mood:
sleepy
Thursday, January 20th, 2011
---
9:11 pm
- Nice use of bumping in the night
I just finished watching Paranormal Activity. I'd been wanting to see it for awhile and with the magic of Netflix through the Wii, that dream became a reality. It was o.k. The tension building was good, if a bit slow at first. By no means was it as convincing (or scary) as The Blair Witch Project.. Micah was a total douche and the ending was really no surprise.

Watched This Is It last night with mum, which was excellent. It's heartbreaking that he's gone. That was going to be one hell of a show. I especially loved the film they shot for Thriller that was so obviously inspired by the Haunted Mansion. Peace and Love be with you, Michael!

I would really like to know what about the Wii-mote makes Butch want to kill it.

current mood:
good
Saturday, September 23rd, 2006
---
10:49 am
Has it been years since I last posted?? Feels like it. I know I was about to leave on VAYkaY, which was most enjoyable. Have a wonderful week with my bunny. We drove down to LA for his 20 year high school reunion. His family is wonderful and doing well. The reunion was fun which is good since it'll be a cold day before I go to mine. We also went to Disneyland which was hot and crowded but I got to experience The Pirates of the Caribbean's additions. Sweet sweet Captain Jack. And the Haunted Mansion had some spooky additions (mostly in the attic) which I approved of (though I miss the eerie piano version of "Here Comes the Bride"). Got to see my Vally and the Holly and stood ontop of a hill in Oakland overlooking the East Bay. Very nice.


It's an absolutely beautiful day. Last breath of joy before winter comes on hard core, BLEH! And I may be starting school on Monday. Cross your fingers for me. :>

F_S

current mood:
cheerful
Wednesday, August 23rd, 2006
---
9:46 am
- ROAD TRIP, babies!
Sorry it's been so long since I last posted. Almost a month, eh? Well, tomorrow I'm driving home to see my Age. Saturday night is his 20th High School Reunion in Long Beach. We're driving there from Santa Rosa on Friday. Am so excited, I'm trying hard not to feel like I want to throw up. I also get to see my girls Vally and Holly and I'm goignt o make trips to J-town and hopefully Bodega. I REALLY need to see the ocean.

In fangirly news...I've been absolutely engrossed by one of the best pieces of fanfiction I've ever read and DEFINITELY the best FMA fanfic. The bitch made me blubber like a baby by the fifth chapter. Deals with issues like regret and love and the idea that one can never really go home (but I AM, darn it!). Winry even has a baby and I wasn't fully turned off by it. The first story is called Friends and Lovers and the second is I'll Love You More and they're both by
infitesimi. She's very very good. Check it out.

Well, my friends. I don't know when I'll be posting again. Soon, though. Will have reunion highlights. Have a good weekend!!

F_S
Saturday, July 22nd, 2006
---
8:11 pm
- But I'm consoled with the fact that I will be sleeping in an unbearably hot room tonight.
This weekend is Comic-Con in San Diego.

and SUR-@#CKing-PRISE!

I'm not there.

But Amano is going to be there. And Nobuhiro Watsuki. And a display of Arakawa-sensei's art (FMA and otherwise).

AM sad.

But I will go next year.

Oh yes. I. Will.

(and hopefully it will be work related :>)

F_S

current mood:
disappointed
Monday, July 10th, 2006
---
5:36 pm
- Mark well me words, mateys, dead men tell no tales.
I just got home from seeing PotC and OHMYGAWD! I'm not going to say much about it except...

OHSWEETLORD Jack! and Elizabeth! *.*

Davey Jones and his crew FRICKIN'AMAZINGLYBEAUTIFUL!

Had to blow kisses to scruffy!Norrington.

And practically turned myself INSIDEOUT during last 60 seconds!

And Tia Dalma , voodoo swamp lady, was totally HAWT!

Did I mention Jack??

Holy CRAP!

May go see again tomorrow!!!

XD squeeeeeeeeeeeeeeeeeeeeeeeeeeeeeeeeeeeeeeeeeeeeeeeeeeeeee


F_S

But keep a weathered eye open, mates, and hold on tight, with two hands if you please. There be squalls ahead, and Davey Jones waiting for them what don't obey.

current mood:
blissed out!
Friday, June 30th, 2006
---
12:02 pm
- Let's go on a picnic and feast on the berries that are my tears!
Hello to all my friends. It's Friday and it's ABSOLUTELY gorgeous out and not too hot and it should proove to be a BEAUTIFULL weekend which is GOOD cuz Anime Expo in Anaheim opens tomorrow. 4 days of non-stop Japanese Pop Culture Bliss. And I will NOT be there.

It's o.k.

Really.

Well, my friends. I must be getting ready for work soon. My goodness it's pretty out.

Love,
da Queen
current mood:
calm
Sunday, June 25th, 2006
---
8:37 pm
It's been for-frickin'-ever since I last updated.

My brother is still a complete and utter douchebag.


It's still pretty toasty out. It got to be about 100 today, but it's dry heat, so it's not too unbearable.

It's my friday night and I plan on squeeing some more over teH pretty clothes (Metamorphose Temp de Fille = prOn!) and hopefully catching the new episode of the Venture Bros. and OF COURSE devouring the last volume of Chrono Crusade. Cuz Chrono/Rosette OTP!!!! (and that's Chrono big or small, not picky. Either way = ultrakink!!)

Night night me lovelies!!!

F_S

current mood:
gots the pout on
Sunday, June 11th, 2006
---
10:01 am
- It SERIOUSLY defies comprehension!
I found out yesterday that my fuck of a brother has put my sweet, wonderful, bright as a mutherfucker, almost 7 year old nephew on ritalin.

OH YES!

Just when I thought he couldn't be any more of a fuckwad.

This is the same brother who, some years ago was railing against the drug's use and saying how it was a tool for lazy parents. Apparently this idiot therapist Gabe's been going to (a recommendation by his school, a shitty public one in Keizer, Oregon, where In-breeding is protected by the city's charter or whatever) put him on it. Mom is beside herself, she's so pissed. We're hoping to get through to Stasey. He can't do this to Gabe. Kids every year are seriously, permanently fucked up by this bullshit drug. ADHD isn't even a real disease!!!! It's a way for the fucking morons that are being allowed to teach in our elementary schools to get the kids medicated and be empty little drones. FUCKERS!!! I've had to deal with "teachers" at work in bookstores for years and they are the stupidest segment of the public. If they ever offer School and Library to me I'm flat out turning it down. I LOATHE those people.

ANYWAY...

Just heard some songs by AFI off their new album and FUCK YAH! I want some teeny-bopper goth/punk pop. WOOOHOOO!!!! And the lead singer looks like Marilyn Manson's little brother. Sweet!!!!!!!!

I have to get ready for work now.

Love, peace and joy to all.
Buddha be praised!

F_S

p.s. I want Zombie Teddy to take office and then he'd go mano-a-mano with the drug companies. Fuckers wouldn't be able to walk for months!

current mood:
pissed off
Friday, June 2nd, 2006
---
10:30 pm
- Beware freeform squeee to follow
Wednesday, May 24th, 2006
---
7:22 pm
If you haven't read the film reviews that David White does for http://www.movies.com they are really funny, especially if the movie in question sux. The one for The Da Vinci Code is very good, especially:

Things to Do to Pass the Time While Stuck in This Movie … OK, Things I Did, at Least:
1. Think about how the plot resembles Kevin Smith's Dogma.
2. Wish this one also had Salma Hayek dancing to New Edition's "Candy Girl."
3. Pass note to viewing companion that reads "Candleshoe + Tom Hanks - Jodie Foster - Fun x Jesus = This Movie."
4. Fantasize about joining the religious protesters of this film with own homemade sign that reads "God hates your dull movie."

In other news,

(

had super happy fun time kind blast on Monday.Collapse

)



Volume 8 of FMA was brilliant and OHMYGAWDWRATH! I SO got tears when Izumi was trying to escape with her baby! X< Anyway...must have 9. MUST! HAVE! 9!!! Stayed up til 4am saving pictures, mostly FMA, though I did find some nice InuYashas. Can't wait for FMA movie. Apparently is VERY bittersweet and OHMYGAWD!! I can't wait. September. GEEEEEEEEE!!!

Oh...and I've been able to write since ma left. She comes back tomorrow. :> and :<
More on that later.

F_S

current mood:
Wanna Go HOME!
Thursday, May 18th, 2006
---
4:05 pm
- Monkey LOVE!
I have to share my favorite news article of the day

DNA shows human monkey business

This quote makes much happiness in me:

Daniel Lieberman, a professor of biological anthropology at Harvard who was not involved in the study, said: "My problem is imagining what it would be like to have a bipedal hominid and a chimpanzee viewing each other as appropriate mates - not to put it too crudely."

Oh I don't know about that...chimps might've found early humans hot back in the day.

In much sadder news...I just read chapter 392 of INuYasha.

(

Read more...Collapse

)



In happier news (for me at least), the sweet little building blocks of a potential FMA story are coming together. It involves me checking out a book on physics (which I know NUTHIN' about except it's the magic that keeps airplanes in the air...sometimes). All this cuz I have an idea for a really cool OC outfit. At the very least, the 14 year olds will dig it. God love 'em!

Got Irish Dance tonight and hopefully the new Dir en Grey cd will be at Hot Topic. yay!

CSI TONIGHT!!!! Grissom loves the Lady Heather...NOT the stupid Sara! HAHAHAHAHAH!!!

F_S

current mood:
pleased
Sunday, May 14th, 2006
---
4:20 pm
- I'm so bored, I might as well be listening to Genesis"
I just read this in an article in todays Oregonian, "The De Vinci Discord"

"O, lame saint!"

If you've read "The Da Vinci Code" -- and 46 million copies have been sold, so some of you have -- you know that's code for "The Mona Lisa."

You've got to be @#$%%ING kidding me. A word jumble??? Sheesh...the whole thing in FMA about alchemy notes being written as recipes is more clever than a word jumble. And apparently there haven't been any screenings of it. That and there are like 5 people listed as screenwriters and that rells me one thing.

It's gonna suck.

Not that I was going to see it. After the last preview I saw and Tom Hanks and the chub and the sweat and the DA VINCI and oh GAWD what utter crap on a stick!!!

Anyway...I'm at work and it's hot and I'm bored and I could REALLY go for some smutty FMA Ed/Envy pPRon or even some full-on squick Al/Ed. Does it exist??? HELP!!!

oh well...

HAPPY MOTHER'S DAY!!!

F_S

p.s. if you can tell me where my subject line quote came from I won't feel so alone in the UNiverse. :>